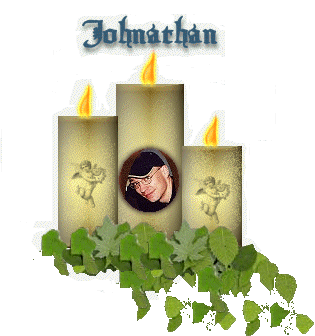 It's now been almost 9 months since
our dear (((Johnathan))) left us. A
few days after him leaving us for some
reason my daughter was looking through
our book case . . and she found a floppy
disc laying there that she knew was Johnathan's.
And I thought . . "Do I really want to see
what is on here?" Well, I felt that we
needed to see what was on there as there
were so many unanswered questions running
through our minds . . .
So I proceeded to put the disc in my
computer and the following poetry (and I
left all words exactly how he wrote them)
that (((Johnathan))) had written was on that
disc . . Why, oh, why couldn't we have
found it sooner . . maybe if we had things
might have turned out differently.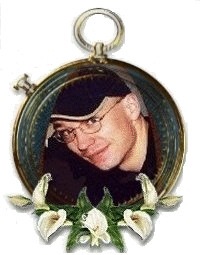 WHATS LIFE FOR???
Whats is life for
Is it to hate
Is it to love
If it is to love
Than I have falled
Maybe if death comes to me
Thangs will turn for the better
To think
To hope
To wish about a better life is but only a dream
I think I must end it
Before it gets worst
Waybe I have out worn my welcome
To live.
To die
Whats the differnce
© 2000
Johnathan Marshall Burns
~~~~~~~~~~~~~~
~ In Memory of Jonathan ~

Your child is always with you
He's never far away
Around your hearts he travels
Forever and a day
You'll always feel his presence
See the smile he wore
This your gift forever
From child on earth you bore
With wings that span an ocean
With love that he will bring
The earth will know his presence
With stars above sparkling
So feel him in the breezes
That softly fill the air
His wings are wrapped forever
His heart is always near
The days you held him closely
Sweet memories will bind
For now he fills your spirit
With love to all enshrined

For all of you who loved him
His heart is what you wear
The symbol of his beauty
In life that you will share.
Copyright
~ Francine Pucillo ~
August 7, 2001
This poem was written just for
our (((Johnathan))) by Francine.
Francine . . thank you so much
for this special gift . .
God Bless You.
Read more of Francine's poetry here
~~~~~~~~~~~~~~
Will there ever be a day?.
When I look at you I wonder
Will there ever be a day
That I can tell you I love you
And in return that to you will say
But im sure that is doughtful
Were so far apart
I should've blocked my heart from this
Right from the start
So now here I stand wondering
If I will always have this pain
Always weeping deep inside
Stranded lonely in the cold pouring rain
So I stay here beside you
Never able to say
That I really do love you
In that very special way
So now whats the differents
What have I learned today
By those who can not say ...
© 2000
Johnathan Marshall Burns
Back Next
© Deb
1998 - 2015
Free JavaScripts provided
by The JavaScript Source