The Power of Love
The power of love
Is seen from afar
The wings of a dove
Wherever you are

Gentleness guide you
To love that is near
Hold and protect you
Never a fear

For He is beside you
With all of His Might
With infinite mercy
So bright is His Light

Fly with compassion
His wings holding me
Softness and beauty
His Heart I can see

Sing to the heavens
With love we will send
Voices we lift up
His sacred Amen

Bow down before Him
With heart filled with pride
His Trinity Blesses
With wings that preside.
~ Francine Pucillo ~
©used with permission



I wish
The first time I saw you
I didn't know it would lead to this
I wish I hadn't met you
But I am happy I did
I wish it didn't end this soon
But it might be for the best
But then again we might have had less
I know we've had fights
But we always made up
I wish I had another chance…way….day
To make it up to you
I wish it didn't have to be this way
I will always love you
But you problay don't believe me
I wish you knew
What I fill for you
I mite have done you wrong
But if I did I'm sorry
If I heart you
I am sorry
I just ask you to forgive me
And I wish for another chance
Another way
And another day
To show you how I care
But I know the answer . . . .no…
So I will not stop wishing
© 2000
Johnathan Marshall Burns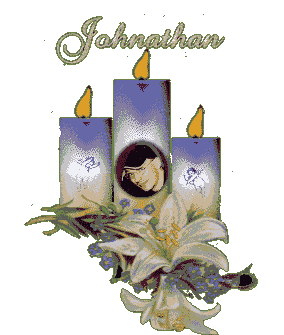 U touch my hand, and it turns to stone
I touch the road, and theres no way home
You touch on something
That my heart has never known
You touch my eyes, with your crazy stare
U touch my mind, and you feel my despair
You reach for lovin
And you see theres no one there
I touch your feelings, and you feel for me
Youre crucified, and nobody sees
I think my concienceis, coming back to haunt thee
I can fly at last, free from the things
Keep me naild to my past
Away from sorrow
Im falling so fast
At last
© 2000
Johnathan Marshall Burns
These are the exact words that (((Johnathan)))) wrote.
I just hope that maybe one person might be helped by reading
these poems that were written by a very troubled young man.